After finishing Cutting for Stone, I wanted to plunge in to another book that would be engaging from chapter one and take me to a new place in the world. Almost with panic in my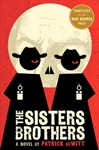 voice, I asked my dear friend Nancy for a recommendation. She immediately responded by suggesting The Sisters Brothers, which sounded intriguing to me until she mentioned that it was a western. I can honestly say that I've never, even once in my life, read a western. But Nancy was right (she always is); this is a great story.
Author Patrick deWitt uses an extremely intriguing voice for the narrator, and I was drawn in from the get go . Though the brothers are tough, murderous types, there is an awful lot of philosophical ruminating going on in the brain of brother Eli as he rides from job to job. deWitt analyzes some pretty heady topics with beautiful prose all of which is set against an expansive backdrop of the wild west during the Gold Rush. You won't be sorry you read this one!