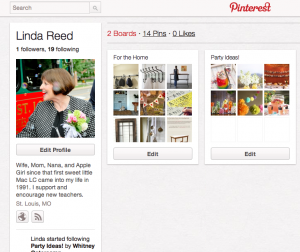 In mid-March of 2011, I heard about an awesome new social site called Pinterest. After attempting to sign-up, I was informed that the site was in private beta and not open to new users. I begged and groveled. Ben Silberman, the creator of Pinterest, sent an email thanking me for my interest and giving me log-in information. To say I was impressed was an understatement.
Pinterest allows users to create boards (think bulletin boards) on which to "pin" (save) photographs, gift ideas, craft projects, interesting book titles, professional web materials and anything on the internet that one wishes to save in an organized manner. You can follow your friends or create new virtual friends to follow and share boards and pins with all of them. It immediately sucked me in, and I knew I was in trouble from a time consumption standpoint. I dumped my boards and ignored it for months, but recently returned. My, how it's grown! You can see from the screenshot that I now only have two boards, but there could easily be a hundred.
I see interesting applications for educators. The impact on students who need both visual and auditory input could be significant. Collections of period photographs, newsreel clips, newspaper archives, or music clips from a specific era would add to a deeper understanding of new concepts in both social studies and English classes. Poetry from a variety of genres could be pinned to several different boards for comparison and analysis. The possibilities are endless. However, there is a lot of junk out there, and not all boards are appropriate for student use. Until a filter of some sort is available, I'm not sure I'd attempt to use this site with students, which is a shame, as Pinterest is trendy, hip and fun.
If you start to play around with Pinterest, be sure to Link with Love. Give credit where credit is due and add a link on your board that refers back to the original creator of the work you are pinning. As Pinterest grows, theft of art, photography, design, and original thought has grown, as well. Kal Barteski, a wonderful artist whose work has been stolen and sold by others, has spearheaded on online campaign to encourage proper attribution of original work. This organization deserves the support of all internet users.
It's a double edged sword, this Pinterest. There are so many beautiful things online. Photography, typography, craft projects, words, books, creative food ideas, and interior design sites are great fun to look at and mark for further study. However, when I keep all of these resources in one place, they nag at me. They make me feel as though I need to do something significant with them. Maybe enjoying them is significant enough.